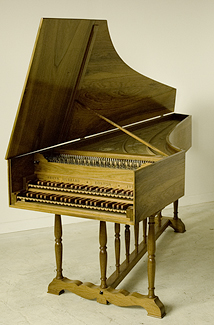 Range: 50 notes, GG/BB-c3, bass short octave, non-transposing. Strung entirely in brass and pitched at a' = 415 Hz, non-transposing.
Disposition: 1 x 4', 2 x 8', upper manual slides in to engage dogs on lower manual, handstops, Wood jacks & feather plectra

Decoration: French-walnut veneered case finished in clear padding lacquer, parchment 3-tiered rose by Werner Iten.
Ebony naturals, boxwood sharps, trefoil-carved key fronts. It rests on a French-walnut balustre stand.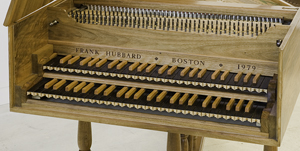 Dimensions: 88" length , 30 1/2" width.

This instrument started life as Frank Hubbard's last design, one he never had a chance to see made. This instrument was built in the years just following Frank's death by the Hubbard shop as an homage. It has been recently rebuilt with a less extreme scaling - one that allows it to be tuned to a'=415Hz. Its sound falls between that of Italian and Flemish instruments - just the thing for Froberger, Louis Couperin, et. al. Sound samples soon to follow - please check back.
The range is small but much more useful than one might otherwise imagine.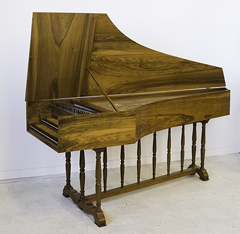 (MC-1) Offering price $23,000